Hadley turning on the racing heat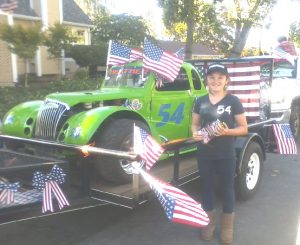 At only 14 years old, Vallejo driver Heather "The Heat" Hadley is already a force to be reckoned with on the Northern California Kart racing circuit.
Hadley, who will be a freshman next fall at Redwood High School in Corte Madera, is winning races consistently at Kart tracks in Davis, Sonoma and far-off tracks in Reno and Fresno. Following in the footsteps of Vallejo legend Jeff Gordon – a NASCAR champion who got his start in Kart racing – Hadley has her eyes set on NASCAR or Formula One in the future.
"I would drive anything as long as it was good pay," Hadley said.
Hadley caught the racing bug when her dad took her to Driven Raceway Indoor Karting in Fairfield when she was only nine.
"My dad's friend had gone there with his nephew and he came back and said it was a blast and that I should check it out," Hadley said. "I had no experience driving whatsoever but I got really into it."
Her first race was an eye-opener, but she went on to win 104 of her next 106 races, making it obvious she was ready for bigger and better competition.
"My dad didn't want to spend all the money on outdoor Kart racing until I proved I was good enough," Hadley said.
By the age of 10, Hadley had her own Kart with a bigger motor and was racing outdoors. During a race at Sonoma, she broke her wrist after a rookie spun in front of her and flipped her kart.
"I had to stay out of karting for almost a year, but I was ready to come back in," Hadley said.
More often than not, Hadley is the only girl in the racing field. Racing against all boys has been challenging, but Hadley won't back down.
"I think it's really cool being the only girl racing," Hadley said. "Just being in the race is amazing, and the number of girls racing is growing every year. I've had boys run me off the road and do things racers shouldn't do. I like to prove that I won't give up.
"Some people believe girls are less capable of doing things that boys do. We're supposed to be fragile and innocent. I like to prove that's really wrong. I can do exactly what they can do."
Hadley won the KPX Championship in the Junior 2 class last year and ended up taking second place for the Champions At Sonoma Raceway Championship. She's racing Junior 2 again this year and is sponsored by Benicia's Phil Joy.
"I love the feel and excitement of racing," Hadley said. "The first race I was ever in, I was way behind because I didn't know what I was doing. But in my second race I came in first and I really just took to it. Now I want to do this professionally some day."
Original Press Release: http://beniciaheraldonline.com/hadley-turning-on-the-racing-heat/
Benicia Herald - July 13, 2016 by Steve Guertin